History will be made on Saturday night at Perry Park for either FNQ Heat or Redlands United in the PlayStation 4 NPL Queensland 2016 Grand Final.
Both sides are contesting their first Grand Final in the competition and triumph for either will result in their first ever silverware in the national second tier.
For the Cairns-based Heat, a win will mark their first ever title in only their fourth season since their founding in 2012.
Lifting the trophy would mark a major achievement for the club, with the side comprised primarily of players born and raised in the state's far north.
Heat not short of Grand Final support
Key to their chances is inspirational skipper and leading goal-scorer Jamie Carroll, who has been with the club since its formation.
Providing the drive in midfield are English-born duo Kieran Sanders and Jamie Gosling, while at the back Japanese defender Shimon Watanabe provides the defensive steel alongside impressive fullbacks Ari Isman and Shaun Owens.
In contrast, Redlands are the oldest Queensland club in PlayStation 4 National Premier Leagues and will mark their 100th anniversary next year.
However, despite their long existence, major trophies have proved elusive for the bayside club – their 2009 Grand Final win in the former Queensland State League their highest previous accolade.
However, history in the PlayStation 4 National Premier Leagues significantly favours Redlands – with the club winning all but one of their previous eight meetings in the competition.
Their greatest strength lies in a dynamic and fluid midfield led by talisman and top goalscorer Graham Fyfe, who is complemented by Michael Lee, Paul O'Brien and Igor Sao Jose.
Their backline also boasts considerable muscle with captain Michael McGowan leading the line and last year's Safe Hands Award Winner Brendan White standing in goal.
Interestingly, Redlands advance to the Grand Final has come despite numerous disruptions to their squad this year – calling upon 31 players through the season compared to Heat's 20.
Statistics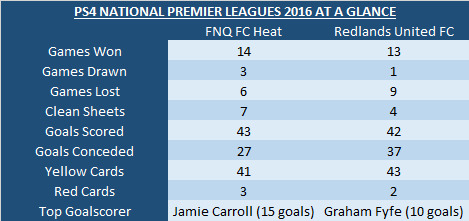 Match Details
PlayStation 4 National Premier Leagues Queensland 2016 Grand Final
FNQ FC Heat v Redlands United FC
Saturday, September 3 | 6:00PM
Perry Park, Brisbane
Admission - $5 (adults), $2 (concession), free (Under 16)
Watch via LIVE STREAM with Facebook Live at fb.com/nplqld
Squads
FNQ FC Heat
1. Kevin WARD, 2. Shaun OWENS, 3. Shimon WATANABE, 4. Josh JENNISON, 5. Ari ISMAN, 6. Jamie GOSLING, 7. Joshua PIN, 8. Christopher O'HARE, 9. Jamie CARROLL (c), 10. Kieran SANDERS, 11. Darcy MCCORMACK, 13. Mqondisi NKIWANE, 14. Tamas MAFFEY-STUMPE, 16. Bronson KOPPEN, 19. Liam WHITE, 20. Joshua WILSON
Head Coach – Tim Campbell
Redlands United FC
1. Brendan WHITE, 2. Michael MCGOWAN (c), 3. Grant BRIX, 4. Kai HALLIDAY, 5. Paul O'BRIEN, 6. Jake SHERWOOD, 7. Michael Lee, 9. Stephen GREEN, 10. Alistair DAVIS, 11. Graham FYFE, 12. Adam CHANDLER, 13. Delors TUYISHIME, 14. Nicholas DANICIC, 16. Igor SAO JOSE, 17. Samuel LANGLEY, 20. Jonathon BURROWES
Head Coach - Matt Chandler
Match Officials - Adam Kersey (referee), Joey Lee (assistant), James Sherry (assistant), Alex King (fourth)